Please remember the following upcoming events in the Rochester area:
October 31st, 1:30 PM – High Mass at St. Stanislaus. Motets by Palestrina, Croce, and Tye round out a full musical repertoire including Cannicciari's Missa Phrygia, Victoria's Credo from his Missa O Magnum Mysterium, and a sung prelude by Farnaby. The Mass propers will be taken from the Mass of the Solemnity of Our Lord Jesus Christ, King. The Solemnity of Christ the King falls in late November in the Ordinary Form calendar, but following the rubrics to the Missal of 1962, the observance is marked on this weekend instead.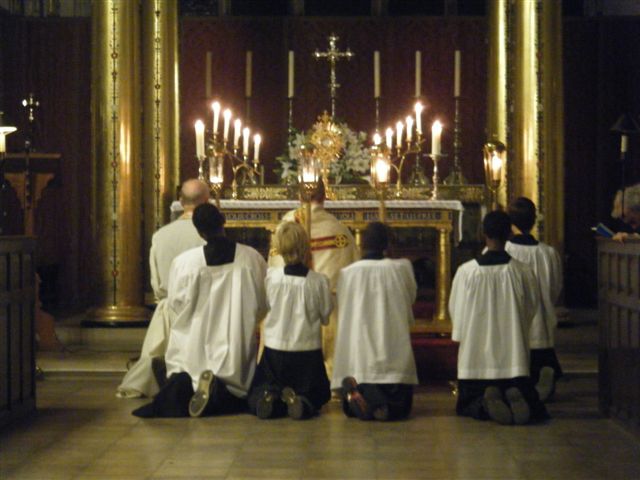 November 2nd, 7:00 PM – Rosary for Priestly Vocations and Solemn Benediction of the Blessed Sacrament at St. Thomas the Apostle Church. The service will include the beautiful hymn "O God Beyond All Praising,"O Salutaris Hostia, Salve Regina (Gregorian), Tantum Ergo (Gregorian), Adoremus in Aeternum (Gregorian), and the majestic chanted Te Deum. The event is being sponsored by the Knights of Columbus Council out of St. Anne Church, and is going to be the last major liturgical function at St. Thomas, at least for the foreseeable future. St. Thomas was built with Gregorian Chant in mind, so a service of this magnitude and beauty will undoubtedly be an impressive and unforgettable event.
So be sure to make yourself available for these two events. They are bound to be unparalleled in their beauty and devotion.
Tags: Latin Mass, Liturgy, News and Media, Orthodoxy at Work, Vocations