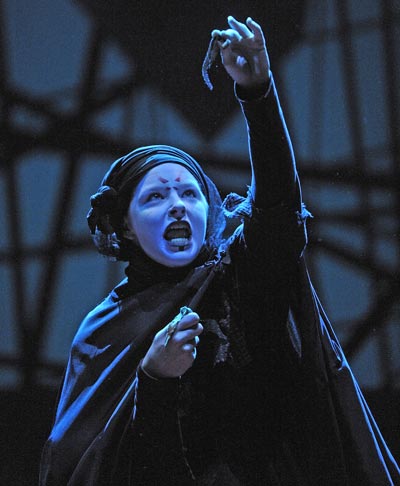 A supporter of the blog has emailed me a notice, telling me to peruse the Good Shepherd bulletin. I thought, "okay, sure. What pronoun got minced now?" Oh, I was wrong . . . so wrong. My comments are the ones in red. The rest flows from Priestess DeRycke's venomous pen.
Liturgical Ministries Appreciation
Vatican II leaders reminded us many years ago that "Liturgy is the work of the people." (Get ready. Here we go, folks!) As we gather to pray as a community, we all bring what we have (talents, joy, sorrows, needs, hopes, disappointments, understandings, questions, successes, failures, hurts?and a lot of ?etc.?) to do what we can to renew our "PACT" with God and God's people ? to work together. What PACT? Praise, Ask, Contrition, Thank. This weekend, we will be blessing Liturgical Ministers at all Masses. (You, a lay woman, have no authority whatsoever, by any stretch of any imagination. The pope has been clear. It is illicit.) We are so very fortunate to have so many people involved in our Liturgical Ministries?THANK YOU ONE ALL:
Planners, the Liturgy, Joint, and Children/Teen Liturgy Committees, who strive to make
our liturgies vibrant and prayerful. (The only Liturgy Planner should be the priest. I doubt very much that our teens have advanced liturgical degrees.)
Sacristans, working behind the scenes to prepare our worship space for weekly and
special liturgies (eg, funerals) and clean up and secure our building after celebrations. (Celebrations? Oh, yes, that's right. Jesus celebrated in the Upper Room with his Apostles. "Hey guys, you drink this stuff! It's better than Hawaiian Punch." Wrong. It was a sacrifice, and one which we re-live at every Mass. Yes, we celebrate Our Lord, but the Mass is a sacrifice beyond measure.)
Greeters, who arrive for Mass early to welcome us as we enter the building. (Quiet prayer isn't enough to prepare for Mass?)
Music Ministers, Choir Members, Cantors, and Instrumentalists who lead us in sung
prayer during Masses, special celebrations (i.e. Penance Services), and funerals.
Lectors, who proclaim God?s Word in Scripture at Masses and special liturgies.
Altar Servers, usually younger parishioners who assist the Presider at the altar. (Presider? they assist the presider? I thought that Altar Boys (and not altar girls) were supposed to assist the priest, the celebrant. Not the "presider.")
Eucharistic Ministers, who offer the Body and Blood of Christ to those gathered at Mass
and beyond, to those in hospitals, nursing homes, or the homebound. (I doubt very much whether these EM's are "offering the Body and Blood of Christ." They aren't the ones saying Mass. The priest does that. Oh, wait, I'm sorry. The "presider" does that.)
Ushers, who assist in welcoming and meeting the needs of people gathered for worship.
Gather/Children?s Liturgy of the Word Leaders, praying with our young people for the
first part of Sunday Masses.
Child Care and Babysitters, helping all to be comfortable during Liturgy. (Children should be quiet or removed. Sorry, but that's the way it is. If your child is acting more possessed than prayerful, you don't need a babysitter to care for them during Mass. You need to walk outside with your child, hold them and quiet them. Be a parent, not apathetic.)
Music Cart Distributors, families or individuals who hand out hymnals and/or tidy and
redistribute our hymnals on the carts to assure equitable distribution. (Because it's too hard to grab your own hymnal.)
Art and Environment Committee, who create and maintain an artistic, decorative
environment in our worship space and throughout the buildings and church grounds to
enhance all liturgical and parish celebrations. (So much to say. I'll let your minds take care of this.)
Wedding Coordinators, who assist in preparation, rehearsals and celebrations.
Flower Donators, bringing in requested flowers or items to enhance our worship space.
Liturgical Assistants, behind the scenes, attending to bells, annex, details, questions.
Presiders, Preachers, Deacons (I suppose "priest" is an illicit word for Mrs. DeRycke?)
Launderers of robes, altar cloths, linens
Cleaners of Church and Chapel
And for all the Assembly, those who gather to pray each week ? All working together to make
our worship celebrations prayerful and meaningful. (Our Lord's Body and Blood are meaningful enough, thank you very much. I don't need some trippy teenage youthgroup to "enhance" my worship experience. "Kumbaya, My Lord, Kumbaya.")
If you would like to be part of one of these Liturgical Ministries in some way, please call the Parish Office or fill out a Stewardship card to let us know ? someone will get back to you as soon as possible for introduction or training or whatever you need.
God bless your week! –Nancy
I look forward to your comments. I think I know what you will have to say.
(DISCLAIMER: THE ABOVE PHOTOGRAPH IS DEFINITELY NOT MEANT TO REPRESENT MRS. DERYCKE TOYING WITH LITURGY AND THE CHURCH. ANYONE WHO THINKS SUCH A THING SHOULD BE ABSOLUTELY AND UNDENIABLY ASHAMED AND SHOULD GO TO CONFESSION IMMEDIATELY.)
Tags: Nancy, Progressive Drivel